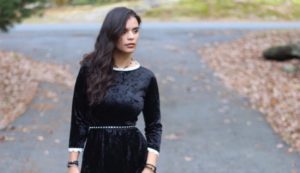 One of our favorite bloggers, Kim Kruse of the Brunette Babe tries on our Velvet Crochet Trim Midi Dress. Find out why this fabric is such a favorite during the fall/winter season.
Reasons to Love Wearing Velvet
Happy Saturday lovelies! I couldn't be more happier of this fall, cool weather in the North East. Now that the weather is getting cooler, it is the perfect time to whip out all of your favorite velvet pieces. Therefore, here are some reasons to love wearing velvet.
Check out more of what Kim Kruse is up to at her blog, The Brunette Babe.